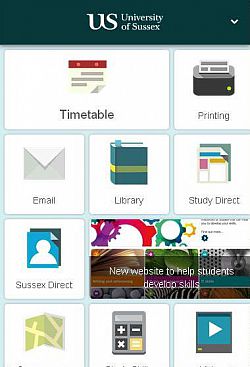 Renew your books and access your library account via Sussex Mobile app.
You can also access your account on Library Search which is optimised for mobile screens.
Getting the most out of the Library on your mobile
Welcome
This Library Guide offers clear advice on how to best experience the Library and its resources through your smartphone or portable device.
To be able to access Library resources through your smartphone or portable device on-the-go and around-the-clock is incredibly useful. Today's learner expects flexibility in how they juggle their study and work, and the Library aims to meet this expectation by making sure you can access what you need easily and timely.
Library Search allows you to search for books, articles and other scholarly works in in the same place. Library Search is mobile friendly and designed to automatically resize for the smaller screen, making both searching for and refining results a satisfying and seamless experience over your smartphone.
For when reading the full-text for both online journals and ebooks over your smartphone, you may find the experience less satisfying as doing the same on a PC or laptop due to the smaller screen size. However, for tablets you should find the experience comparable to using a PC.
Accessing journal articles and other specialist resources
In addition to Library Search, many specialist subject databases and online resources have launched a mobile friendly version of their full website.
Some excellent examples include:
Ebooks on your mobile
Ebooks can be read online on a variety of mobile devices, with some also downloadable to your device. How much you can download, print and copy will vary from each supplier, and of course are limited to the same copyright regulations as print editions.
In addition, you may find that you will need to install some extra software onto your device in order to access the full content. To what extent will depend largely on your device and its compatibility with particular file formats. Common software necessary to install include the Adobe Reader and Bluefire Reader, and in many cases you will be prompted to install these when you first try to access the full-text on your device.
More information on each ebook provider and how they work can be found on our ebook Libguide
There are apps available for most devices for you to download. Many are free and are excellent pieces of simple and specific software designed to work well on mobile devices.
Some ones to recommend include:
Apple
Android